To:
Hon Steven Marshall MP
Premier of South Australia
This annual report will be presented to Parliament to meet the statutory reporting requirements of the Public Sector Act 2009 and the Public Finance and Audit Act 1987 and meets the requirements of Premier and Cabinet Circular PC013 Annual Reporting.
This report is verified to be accurate for the purposes of annual reporting to the Parliament of South Australia.
Submitted on behalf of Defence SA by:
Richard Price
Chief Executive
---
From the Chief Executive
South Australia is at the forefront of the nation's defence and space industries. Renowned for its innovation, world-class research and development, and a highly skilled workforce, the state's defence industry has a proud history of delivering some of Australia's largest and most complex defence projects. South Australia's defence industry backs our large Australian Defence Force presence and specialist infrastructure.
In the past financial year, we have made considerable progress in building an internationally competitive and export-ready defence industry that is equipped to take full advantage of the new opportunities arising in the global supply chains, including Australia's next generation warships and submarines. We have successfully led and participated in key tradeshows and business missions, providing South Australia's defence industry with a platform for international exposure and enabling local companies to strengthen relationships with global partners and suppliers.
Defence's intelligence surveillance, reconnaissance and electronic warfare and cyber capabilities are also expanding rapidly, providing new career and business opportunities for South Australians.
This year was significant for South Australia's space industry, with Adelaide being chosen as the home for the Australian Space Agency headquarters, co-located at Lot Fourteen with a national Mission Control Centre and the Space Discovery Centre. Further consolidating our position as the nation's leader in space, South Australia is taking a leading role as the headquarters of the SmartSat Cooperative Research Centre, an industry research powerhouse that will boost our nation's space capabilities and connect industry and researchers.
Defence SA aims to leverage our existing strengths and entrepreneurial spirit to make South Australia the undisputed champion of the space industry.
Growing our skilled workforce to meet the demands of our defence and space industries has been our top priority this year. We have made significant headway on this front, leading the development of a comprehensive, whole-of-government strategy that is responsive to industry's changing needs and launching key programs that will deliver the skilled workforce.
South Australia's defence and space industries are a vital part of the state's future economic prosperity. We are committed to growing local industry and creating an environment where businesses can thrive.
Richard Price
Chief Executive
Defence SA
---
Contents
Our organisational structure as of 30 June 2019
Agency contribution to whole of Government objectives
Agency specific objectives and performance
Employment opportunity programs.
Agency performance management and development systems.
Work health, safety and return to work programs.
Executive employment in the agency.
Financial performance at a glance.
Strategies implemented to control and prevent fraud.
Reporting required under any other act or regulation
Reporting required under the Carers' Recognition Act 2005
Number of public complaints reported (as required by the Ombudsman)
Appendix: Audited financial statements 2018-19
---
Overview: about the agency
Our strategic focus
Purpose:
Defence SA is South Australia's leading government agency for all defence and space related matters. It is the South Australian Government's single point of contact for all defence and space stakeholders, streamlining their interaction with the state government.
Mission/Values:
Defence SA's mission is to maximise growth in the South Australian defence and space sectors. Working closely with the Australian Government and industry, Defence SA targets investment and expansion opportunities, drives and supports the delivery of major projects and facilities, and pursues the location of additional defence and space capabilities in the state.
Defence SA plays a key role in supporting the Australian Government's strategic defence policy by increasing local industry participation and ensuring that a highly skilled workforce is in place to underpin current and future defence projects.
Defence SA is capturing further investment opportunities in the shipbuilding, cyber and systems, defence science and research and space domains.
The South Australian Space Industry Centre (SASIC), which drives space industry innovation, research and entrepreneurial development, is hosted within Defence SA. SASIC collaborates with the Australian Space Agency to play a key role in the national space agenda.
The Defence SA Advisory Board provides high-level strategic advice to promote the growth of the defence industry in South Australia and plays a key role in guiding the state's defence strategy.
Our functions, objectives and deliverables
Shipbuilding: to ensure South Australia maintains its position as the nation's centre for warship and submarine building and sustainment.

Cyber and systems: to position South Australia as a centre of excellence for cyber capability and processing, exploiting and disseminating intelligence.

Advocacy and support: in collaboration with the Australian Government, Defence and industry, Defence SA works to ensure the required workforce, skills, and infrastructure are available to capitalise on emerging defence industry opportunities.

Defence science and research: to position South Australia as a national leader in developing intellectual property.

Space: to position South Australia as the nation's centre of space industry development and home of the Australian Space Agency headquarters.
Our organisational structure as of 30 June 2019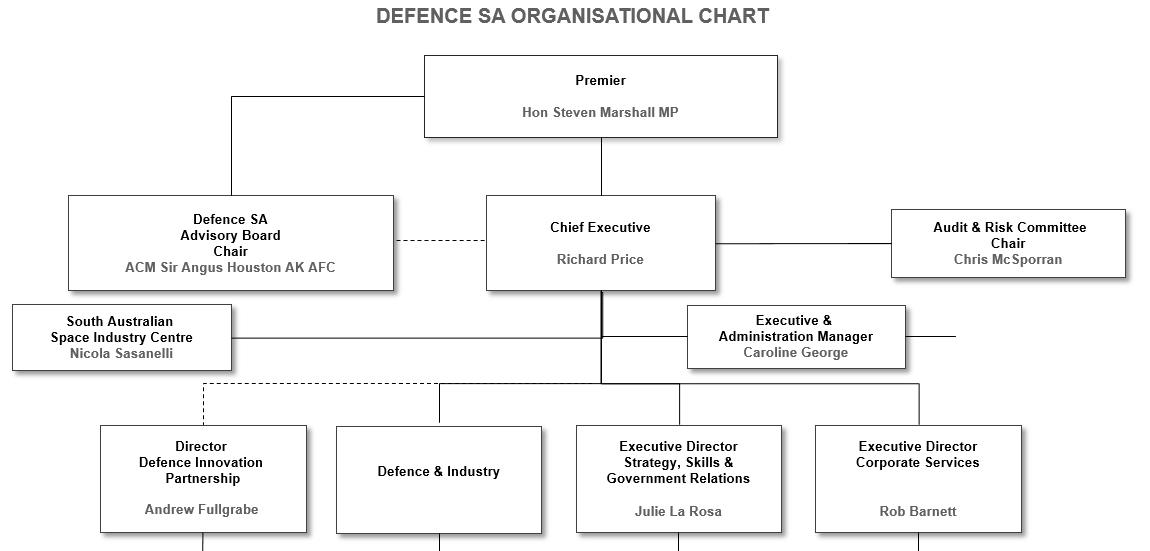 Changes to the agency
During 2018-19 there were no changes to the agency's structure and objectives as a result of internal reviews or machinery of government changes.
Premier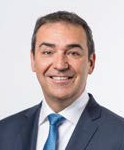 The Hon Steven Marshall MP, the Premier of South Australia is responsible for the defence and space industries portfolios.
Our Executive team